Snow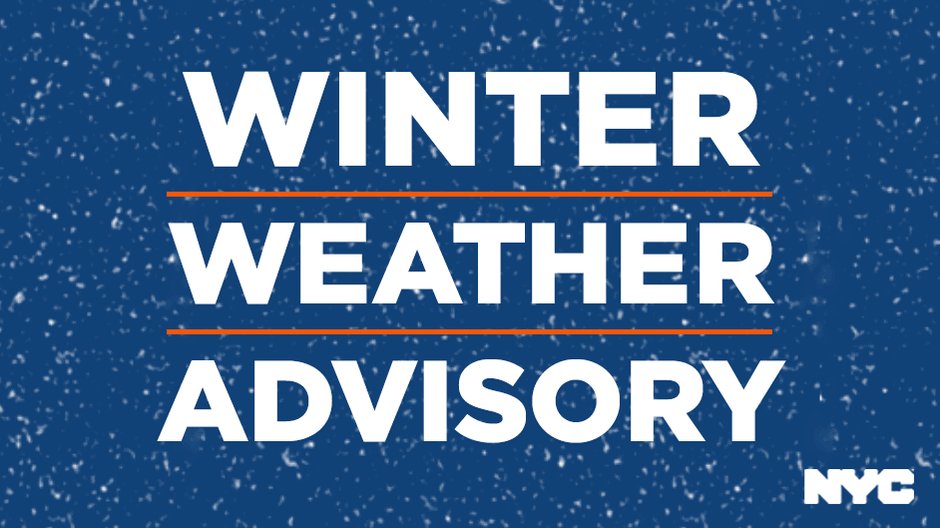 A winter storm warning is in effect for Friday, January 28, 2022 at 7 PM until Saturday, January 29, at 7 PM. Read DSNY's Snow Alert here. All winter weather information and information about the City's response to the storm can be found by visiting the City's Severe Weather website at www.nyc.gov/severeweather or by calling 311. Stay informed. Sign up for Notify NYC.
New York City Emergency Management issued a winter storm warning & travel advisory for Monday, February 1 & Tuesday, February 2, 2021. Alternate Side Parking will be suspended through Saturday, February 6 for snow clearing operations. For information about city services and public safety, please click the link below.
Applications are being accepted for emergency snow laborers. Get paid to help to remove snow and ice from bus stops, step streets, and other locations throughout the city this winter. You can register at the DOT garage located at 2900 Flatbush Ave, Brooklyn NY 11234 on weekdays between 7AM to 3PM. Snow laborers will be paid $15 per hour, and $22.50 per hour after 40 hours are worked in a week. For job requirements, qualifications and other locations to apply, please click here to view the Snow Laborer Hiring Flyer.
NYC Needs Emergency Snow Laborers! Sign up now to be an emergency snow laborer and help to remove snow and ice from bus stops, step streets, and other locations throughout the city this winter. Interested? Please click here to view Emergency Snow Laborer Job Flyer with registration locations. Apply weekdays from 7AM until 3PM. Snow laborers will be contacted when needed, and will be paid $15.00 per hour, and $22.50 per hour after 40 hours are worked in a week. Click here to see additional jobs posted on CB14's website.
With winter storms bearing down on New York City, keep up to date with National Weather Service storm warnings and keep reading below for tips from city agencies to keep you safe, along with reminders about your responsibilities as a city resident. (more…)
The National Weather Service has issued a Blizzard Warning for New York City from 6 AM Friday, 2/8 to 1 PM Saturday, 2/9. The current forecast calls for 10-14 inches of snow accompanied by strong winds. Use caution if you must travel.
Weekend Parking: Alternate Side Parking Regulations and Parking Meters have been suspended citywide on Saturday, Feb. 9, because of weather conditions. Meters & Regulations are not in effect on Sunday, Feb. 10.
CLICK HERE to find out how to prepare for and stay safe during the storm.
Cancelled
Due to the unusually warm weather, the Parks Department has had to cancel Winter Jam 2012.  It is too warm to make snow which was the foundation for almost all of the planned activities.
Winter Jam has been an official NYC Parks tradition for the past ten years, and has afforded thousands of New Yorkers the opportunity to try out winter sports for free.  We are grateful to our partners and sponsors for their support.  We hope that next winter's weather patterns are frostier!
NYC Parks encourages you to still get outdoors this month by visiting one of the six skating rinks in City parks, or checking out a nature program offered by the Urban Park Rangers.
For more information about things to do in our parks or in our recreation centers, explore the rest of our website or call 311.
Originally scheduled for:
Saturday, February 4, 2012
11:00 a.m. to 4:00 p.m.
Prospect Park, Brooklyn
Long Meadow by the Picnic House
Enter at 3rd St. & Prospect Park W.
NYC seeks volunteers to clear snow for our elderly residents this winter.
This winter season, NYC Service is hoping to enlist community organizations in an effort to help homebound seniors and the disabled clear the snow in front of their homes.  Please join us in our continued effort to make our City safer for all people while promoting our "neighbors helping neighbors" policy. NYC Service has already worked with the Department for the Aging to identify seniors that would need this last resort service.  NYC Service is currently building a list of community groups and organizations in order to deploy volunteers to meet the needs of seniors in their neighborhood.
If your volunteer group or community organizations would like to help the elderly and the disabled in your neighborhood, please send an email to Gary Johnson at gjohnson@cityhall.nyc.gov.
Thank you,
NYC Service
Gary Johnson
NYC Service|Office of the Mayor
www.nyc.gov/service
Email: GJohnson@Cityhall.nyc.gov
Phone: 212.442.6331
Community District 14 Snow Removal Plan
Click on the above link to view the 2011-2012 snow removal plan for Community District 14.
Borough of Brooklyn Snow Removal Plan
Click on the above link to view the 2011-2012 snow removal plan for the borough of Brooklyn.
New York City Snow Removal Plan
Visit NYC's website to view the 2011-2012 city wide snow removal plans.

NYC Severe Weather – Snow Removal street address finder
Find your Street's snow removal designation! Use this handy tool to find out the snow removal category for your home or business address. NYC Severe Weather is a site for residents to gather and share information about how severe weather emergencies are affecting New York City. Each year the City categorizes roadways as primary, secondary, and tertiary to help plan snow removal operations.
The New York City Office of Emergency Management (OEM) released the following details earlier this morning in anticipation of the upcoming snow fall predicted for Tuesday evening, January 11th and Wednesday, January 12th:
Overview: The forecast is calling for the potential of a significant winter storm impacting New York City with snow accumulations between 8 and 12 inches accompanied by strong winds and wind gusts which will cause blowing and drifting of snow.

Timing: Snow expected to arrive Tuesday evening around 10 PM, with the heaviest amount of precipitation falling late Tuesday overnight into Wednesday morning from midnight to 9 AM.  Snow will taper off by late Wednesday afternoon during the evening rush hour.  As the area of heaviest snowfall exits the area, winds will increase during the morning and early afternoon on Wednesday, resulting in the blowing and drifting of accumulated snowfall.

Precipitation: The highest forecast confidence (90%) calls for total snow accumulation of between 8 to 12 inches for New York City.  If the storm tracks west, a total accumulation of 12 to 18 inches is possible (10% confidence).  Snow type is expected to be light early during the snow event.  As temperatures get warmer on Wednesday snow type will become a wetter, heavier snow.

Precipitation Rate: There is a possibility of 1 inch or more per hour during the periods of midnight to 9 AM on Wednesday.  Should any bands of heavier snowfall set up over the City, hourly rates of 1 to 2 inches an hour are possible.

Temperatures: Upper 20's Tuesday night to low 30's Wednesday morning.  Temperatures will barely reach the freezing point during daytime periods from Wednesday through Sunday.

Winds: Sustained winds of 10 MPH Tuesday afternoon with winds increasing overnight to 10-20 MPH sustained with some gusts near 20-30 MPH by the Wednesday morning rush hour. Winds are not expected to reach Blizzard Warning criteria; however, near blizzard-like conditions are possible during heavy snow bands.

Coastal Flooding: Coastal flooding is possible as the storm passes through. Flooding will likely be minor due to the speed of the storm.