Latest News
« Previous Entries
Click the link below to view CB14's April 2023 meetings calendar & agenda. Watch live and archived meetings on the CB14 channel. Register to receive the Webex links,  to sign up to make announcements or to RSVP on the April meeting listing page.
April 2023 – Calendar & Agenda
With the recent extension of the public comment review period from March 7, 2023 to March 31, 2023, the U.S. Army Corps of Engineers (USACE) New York District is announcing two additional informational virtual public meetings for the New York New Jersey Harbor and Tributaries (NYNJHAT) Coastal Storm Risk Management (CSRM) Feasibility Study. (more…)
Brooklyn Community Board 14 is pleased to announce that Department of Sanitation Commissioner Jessica Tisch has approved additional Sanitation collection services in portions of the district to assist residents in preparation for Passover observances, which commence at sundown on Wednesday, April 5, 2023. The plan provides for additional collection services.
Click to open/download the letter and map for additional information:  Passover Sanitation Letter & Map
REFUSE:
– For areas with regular collection on Wednesday/Saturday, there will be an extra pick up on Tuesday, April 4.
– For areas with regular collection on Monday/Thursday and Tuesday/Friday, there will be an extra pick up on Wednesday, April 5.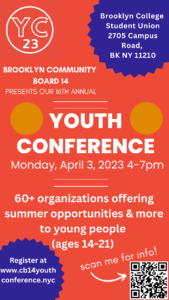 CB14's Youth Service, Education and Libraries Committee is thrilled to announce our 16th Annual Youth Conference will take place on Monday April 3, 2023 from 4-7pm at the Brooklyn College Student Center (2705 Campus Rd).
The Youth Conference is a wonderful opportunity for young people ages 14-21 to connect with organizations, businesses, schools and agencies offering summer jobs, afterschool programs, career development, college information and more. Service providers offering health, immigration, legal and other support services will also be in attendance. In addition to tabling by various organizations, agencies, educational institutions, and businesses, young people can participate in half-hour workshops. CB14 is excited to once again be partnering with Brooklyn College for this event.
Participation in the conference is totally free! (more…)
Join a NYPD Youth Leadership Council (YLC) to share your ideas and help the community. Partner with an NPD
The NYPD YLC is open to youth between the ages of 14 and 21. This is a great opportunity for all teens, not just those interested in law enforcement.
Our local NYPD YLC is scheduled to meet once weekly, Thursdays at 4pm at the Kensington Library at 4207 18th Avenue.
Sign up at bit.ly/nypd-ylc-sign-up or use the QR code in the flyer and select your precinct.
Local resources are available to help you prepare and submit taxes for free. Below is a list of free tax preparation services in Brooklyn. (more…)
Click the link below to view CB14's March 2023 meetings calendar & agenda. Watch live and archived meetings on the CB14 channel. Register to receive the Webex links,  to sign up to make announcements or to RSVP on the March meeting listing page.
March 2023 – Calendar & Agenda (updated 02/27/2023)
The current public health emergency has been extended and, as a result, Community Board 14 meetings will be held remotely during March. Please register for meeting links on this page or by emailing the office at info@cb14brooklyn.com
Applications are now open for the Summer Youth Employment Program (SYEP).
SYEP is the nation's largest youth employment program, connecting NYC youth between the ages of 14 and 24 with career exploration opportunities and paid work experience each summer. Through SYEP, participants can explore different interests and career pathways, develop productive workplace habits, and engage in learning experiences that strengthen their social, civic, and leadership skills. By participating in structured project and work-based opportunities, NYC youth are better prepared for careers of the future.
The deadline to apply is March 31, 2023. Visit the SYEP website to learn more and to apply.
Please click links below to view event flyers for upcoming events. If you would like your community event featured on this listing, please email a flyer or link to info@cb14brooklyn.com.
Mar. 12, 10-2 PM – Electronics Recycling and Shredding Event (1415 Cortelyou Road)
Mar. 16, 6 PM – Tenant Resource Fair  (online)
Mar. 23, 6-8 PM – Assemblymember Robert Carroll's Town Hall Event  (PS9, 80 Underhill Ave)
Mar. 26, 5 PM – Assemblymember Rodneyse Bichotte Hermelyn Women of Distinction Award Ceremony (2920 Campus Road)
Starting this week, every home in the U.S. will be able to order an additional set of 4 tests. Every home in the United States is eligible to now receive two shipments of four at-⁠home COVID-⁠19 tests from the federal government. The tests are completely free. Order your tests now so you have them when you need them. To place an order, go to www.covidtests.gov.
Visit CB14's COVID-19 resource page for more information, news, alerts and resources about New York City & State's response to the novel coronavirus including testing and vaccination locations. New Yorkers are encouraged to stay home and to stay up to date with all latest announcements regarding COVID-19 by visiting www1.nyc.gov/site/coronavirus/index. New York City has also set up a text alert system.  Text COVID to 692-692 and notifications will be texted to you. Visit CB14's Covid-19 resource page at https://cb14brooklyn.com/covid-19-resources/ for more information.
Want to lend a hand to keep Prospect Park clean? Visit prospectpark.org/get-involved to sign up for volunteer events, borrow trash grabbers, and learn about the many ways you can lend a hand in Brooklyn's Backyard. Join Prospect Park volunteers on Mondays It's My Park Day community volunteer events, where groups and individuals can help us sustain the park during these challenging times.
New citywide alternate side parking (street cleaning) regulations have been instituted. Residential streets will only be cleaned  once per week on each side. If an ASP sign lists multiple days, street cleaning regulations will be in effect only on the last day listed on the sign. There are no changes to streets that have just one day of ASP regulations on each side or commercial streets or metered areas. For more information on recent changes to ASP rules, go to http://on.nyc.gov/ASPReform.
In compliance with the Governor's order and New York City's guidelines, the Community Board 14 office began providing services remotely beginning Wednesday, March 18th.  We have access to email and will periodically collect voicemail messages in order to continue to assist community members with issues related to city services. All board meetings will be held online until further notice. For service or to sign up for our monthly newsletter, please email info@cb14brooklyn.com or leave a voicemail at 718-859-6357. For additional information about how the City of New York is working to keep residents safe and healthy, please visit www1.nyc.gov/site/doh/health/health-topics/coronavirus
The Compost For Brooklyn (C4B) Community Garden will be open to the public every Thursday from 1-3:30 pm through the end of June along with the following Saturdays from 11 am -1 pm: March 22, April 12 &  26, May 10 & 24, June 14 & 28.  Volunteers are needed to help unload trees on Friday, April 4th @ 7 am (for no more than 1 hour). Hot coffee and muffins will be provided. Email Natalia at: snucre@optonline.net if you would like to volunteer.
Composting is available for residential food scraps at the C4B Garden located at East 8th Street & Newkirk Avenue in Brooklyn. (Please no dairy, meat, bones, woody material, lawn clippings, coconut shells, or "compostable" dinnerware).  To find out more about Compost For Brooklyn's  volunteer opportunities & community events, continue reading below. (more…)
Have you explored the Community Board 14 website recently? Did you know we post JOB Training Program & Employment Opportunities, SENIOR Volunteer, Job & Educational Programs, along with many YOUTH Opportunities including Sports, Educational, Internship, Job opportunities & more? Visit our Resources Page or the click on the links above to see the current listings. Check back often for new postings!
For the latest MTA information regarding the Cortelyou, Beverley & Parkside station rehabilitation project, plus information about other general MTA service advisories, please follow the link.
To read the Mayor's Report on Hurricane Sandy Recovery Efforts on the 1-year anniversary of the storm, CLICK HERE.  For the latest Hurricane Sandy Recovery Information for Brooklyn Community District 14 and beyond, including important information regarding federal, state & citywide services, programs and available resources, (more…)
NOTE: If your sidewalk was damaged during Hurricane Sandy, you can call the Community Board office at 718-859-6357 to request a special inspection and repairs. Sidewalks must have suffered storm damage, such as from the roots of a fallen tree, in order to qualify for free repair by the City of New York.
New York City's Department of Transportation (DOT) is tasked with keeping the 12,750 miles of city sidewalks safe for pedestrians. This undertaking requires the participation of home, building and business owners as well as city agencies.
CLICK HERE to view the DOT Sidewalk Guide.
Continue reading below for more info about Sidewalk Maintenance & Repairs
ARTS & CULTURE FEST
presented by The Creative Side

WHEN: Saturdays, 10 AM – 6 PM (April 21st through October 20th)
WHERE: Parkside Plaza (Ocean Avenue and Parkside Avenue, Flatbush, Brooklyn.) (more…)
Compost for Brooklyn & Newkirk Cares Collaborative will be hosting monthly community workdays to care for street trees along Newkirk Avenue.  Volunteers are welcome!
Next Volunteer Date : Sunday, May 20, 10 a.m.
To Join, email newkirk.collaborative@gmail.com
Click here to find out more about the Zone Green Text Amendment.
NYC Prescription Discount Card
All New York City residents and visitors are invited to take advantage of the city's discount prescription program. No paperwork required. All are automatically qualified. Simply visit the Big Apple Rx website, call 311 or call 1-800-697-6974 to receive your new card start saving on your prescriptions.
(more…)
Tax Aid Schedule
Saturdays 10am- 2pm
Free Tax Return Preparation.
No Appointments. Walk-Ins Only.
February 11, 18, 25
March 3, 10, 24, 31
April 7 & 14
Prospect Park's Wollman Rink parking lot is currently closed while construction is underway on Lakeside.  To help you plan your trip to the Park and enjoy your visit, here is some useful information:
• Visit our Directions page for information on public transportation serving the Park and driving information.
• Find designated picnic and barbecue areas at the Park, and read rules for picnicking and barbecuing.
• Find barbecue areas in other New York City parks.
• Visit primospot.com* to find the location of parking garages and other parking options near the Park (after the new web page opens, it may be necessary to refresh the page to see a complete list of local parking garages ).
• Find a safe bike route to and from Prospect Park via the Ride the City interactive map tool.
« Previous Entries